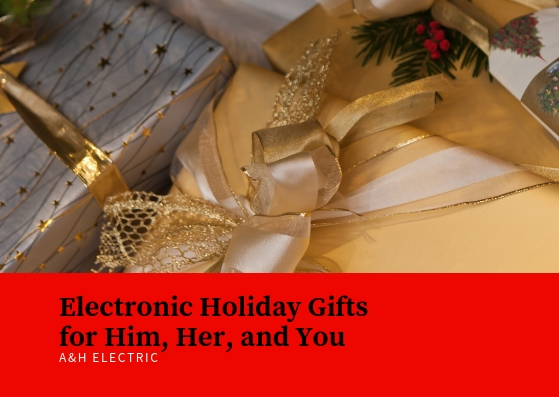 If you're still in need of a last-minute gift – there are only 12 shopping days remaining – here are five electronic holiday gifts for him, her, and you. These are very practical gifts that will also cut energy costs.
Instant Pot
Support your friend or family member's busy lifestyle by gifting them with an Instant Pot. It's an all-in-one pressure cooker, slow cooker, rice cooker, steamer, sauté pan, yogurt maker, and warmer. One pot can literally replace seven kitchen appliances! The best part is that an Instant Pot prepares dishes up to 70 percent faster than conventional cooking methods. This will save on energy costs as well. Instant Pots are relatively easy to find both online and at big-box retailers. There is also an assortment of accessories available, from decals to egg bite molds, and everything in between.
Amazon Echo
A smart speaker can make life easier for just about anyone. Think of an Amazon Echo (i.e., Echo, Echo Dot, Echo Plus, Echo Spot, Echo Show, etc.) as their or your own personal assistant. Voiced by Alexa, the Echo series can be placed in any room, where the intended recipient can reorder household staples, hear the day's weather report, or listen to their favorite music. The Echo can also control compatible smart devices for total home automation. You have the option of adding smart plugs, Fire TV sticks, or smart bulbs to your cart when ordering to get them started.
USB Outlets
Help them eliminate bulky wall chargers by gifting them with relatively inexpensive USB wall outlets. They make great stocking stuffers too! Today's USB outlets have a minimum of two power ports for charging smartphones, tablets, and e-readers. Many are even available with both Type-A and Type-C ports for added convenience. The nice thing about these ports is that they shut off when not in use, reducing energy consumption, and thus money. The recommended strategy is to hire a licensed electrician to replace standard outlets with USB outlets.
Security Cameras
Give them the gift of peace of mind with security cameras that the giftee can install, or have professionally installed, around the perimeter of their home for enhanced safety. While there are a variety of cameras available, the best for outdoor use feature 360-degree coverage, infrared night vision technology and motion detection. They also permit remote monitoring. Alternatively, there are video doorbells that offer many of the same features, with the added benefit of two-way audio so they can screen visitors. Most, if not all, security cameras also have cloud recording.
Wireless LED Light Bulbs
Wireless LED light bulbs are a great gift. They're designed to fit in a wide variety of fixtures and are controlled via an iOS or Android app. Once connected to the receivers' phone or smart speaker, they can change color according to the music being played, flicker like a candle, strobe and more. Obviously, features will vary depending on brand, although they all are energy efficient. Popular brands include Philips Hue, LIFX, and Sengled. Wireless LED light bulbs can be purchased online or at local retailers.
Happy Holidays and Happy Shopping!
~ From your friends at A&H Electric