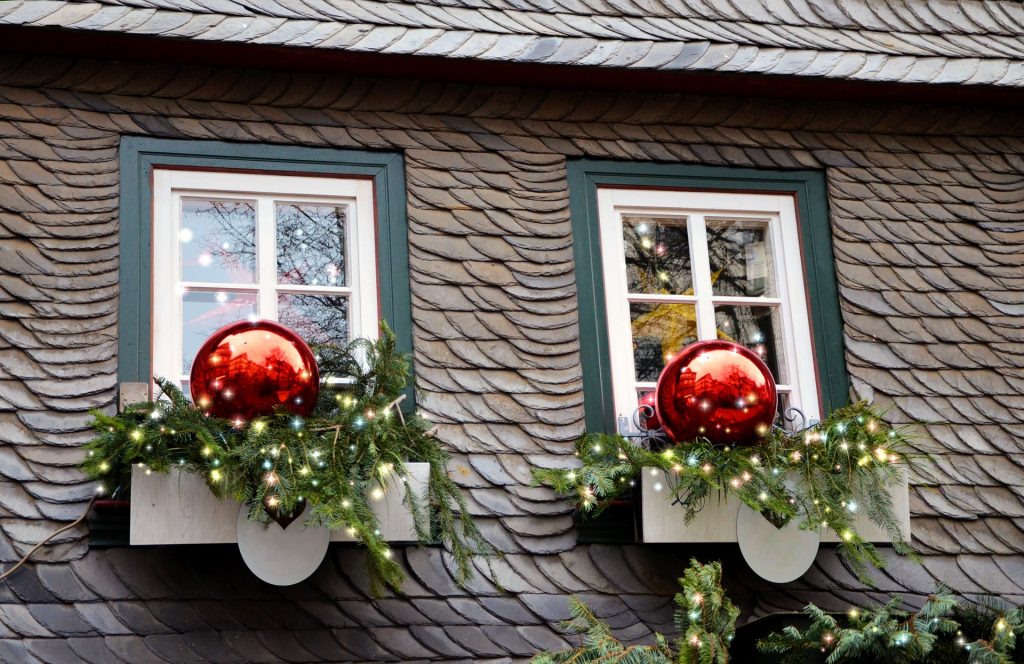 Make the season really sparkle with outdoor holiday lighting. Here are some tips to get you started.
Holiday Light Planning
Whether decorating your house with one string of lights or multiple, planning is one step you can't miss. Decide how many lights sets you'll need by measuring the locations where they will be used. This will likely be along your home's rooftop and around patios or porches. You can also find net lights for use on bushes and trees. Determine whether you want all white or all color light sets.
Inspect Light Strings
Carefully inspect previously used light strings and extension cords. Frayed or otherwise damaged electrical cords should be responsibly disposed of. There should also be no broken sockets or loose connections. The lights could short out and cause a fire.
Always Choose Weather-Resistant Lights
Any lighting you plan to use outdoors must safely stand up to the elements. Look for holiday lights that are UL-rated for outdoors. The same holds true for extension cords used outdoors. When unpacking last year's decorations, if you find a set of holiday lights or an extension cord that you aren't sure is rated for indoor or outdoor use, toss it and buy new ones.
Purchase LED Lights
Incandescent holiday lights are terribly inefficient, and despite careful storage, often emerge damaged. LEDs, while a bit more expensive, are a much better option. They use up to 75% less energy and last 25 times longer. Because they also produce very little heat, they are much safer to use for indoor and outdoor lighting. In addition, up to 25 strings of LEDs can be connected end-to-end, without overloading the socket.
Automate Your Lights
Eliminate the headache of having to remember to turn on and off your holiday lighting displays with a timer or wireless remote control. Keep in mind that you should never leave your lights on while you're asleep or away from home. Holiday timers are available in a variety of styles, and for a variety of uses (e.g., outdoor or indoor), so it's a good idea to read the packaging to find the right timer for your specific needs. Most timers are designed for a certain wattage. Make sure you don't overload yours.
Be Cautious When Installing Lights
Use a good ladder when installing your lights. Also make sure someone is helping you with your display – one person on the ground to hold the ladder steady and the other hanging lights. Secure them with insulated holders (never use tacks or nails). Plug them into ground-fault circuits, which will turn off automatically in event of a short, or spike in power. Consider having your electrical system inspected by a professional electrician in Conroe annually to ensure safety.
Properly Store Holiday Lights
At the end of the season, store your holiday lights using cord holders or make your own using cardboard so that next year you don't have to spend countless hours untangling them. It's also a good idea to store them in a well-sealed container to avoid possible water or rodent damage. This will save you money on replacement costs.