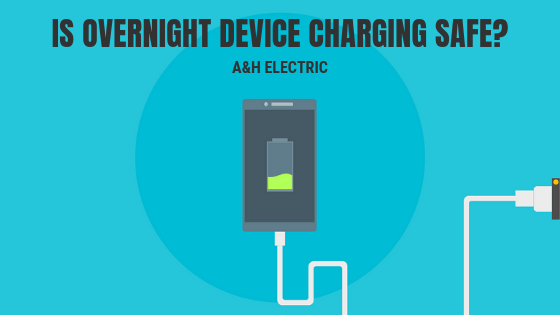 Raise your hand if you've plugged in your phones, tablets, or laptops just before falling asleep. The promise of waking up fully rested, ready to go about our days, with a fully charged electronic device to assist us is quite alluring. Then there are those who've been told that overnight device charging is incredibly bad for the battery.
Here we explore this and other ways to protect your devices.
The Skinny on Overnight Device Charging
Today's devices feature lithium-ion batteries and built-in protection chips. The latter stops the device from drawing power once the battery has reached capacity. That can take as little as 15 minutes to two hours depending on manufacturer and charging method (e.g., wireless, plugged-in, fast, or standard).
A problem can develop, though, if the battery overheats while charging. Once a device reaches capacity, charging temporarily ends until the battery falls below 100 percent or on some laptops, the stop charging threshold you set. That has the potential to produce heat, shortening the battery's lifespan.
To prevent overheating, experts recommend removing any cases before charging overnight. It is also best to leave the phone on a flat, hard surface, like your nightstand. You should never place a charging device under your pillow either as this can cause it to quickly overheat. Many phones will shut-down should they get too hot.
What About USB Outlets?
Wall outlets with USB ports – USB-A, USB-C or both – are safe granted you still use official cables. The key here is to make sure the wall outlet with USB ports is UL listed, NEC compliant, and properly installed (preferably by a licensed electrician). Also, choose name brand manufacturers, rather than a cheaper alternative. Remember: You get what you pay for.
Don't Let the Battery Drop to 0%
You can certainly benefit from not draining the battery before recharging. That's because most lithium-ion batteries work in charge cycles. "You complete one charge cycle when you've used (discharged) an amount that equals 100% of your battery's capacity – but not necessarily all from one charge," according to Apple. As a rule, if your device falls below 30 – 40 percent, turn on the gadget's power-saving mode. You may lose some features, but it'll extend the battery's lifespan.
A&H Electric specializes in the installation, repair, and service of all electrical systems in both commercial and residential properties throughout Conroe and the surrounding areas of Texas. We also perform electrical safety inspections. Schedule an appointment with a qualified, licensed electrician today at (936) 756-0442.